Channeling our inner TLC, we're invoking their CRAZY SEXY COOL vibes to explain Weekender's unique day to day schedule; with a dope Lisa Left Eye like flow.
FRIDAY = CRAZY | SATURDAY = SEXY | SUNDAY = COOL
---
Day 3 | Sunday | Cool
Cinco De Mayo is upon us, chilled tequila drinks dance in your dreams as you prepare for an epic Sunday with a top notch lineup. As the sun shines overhead and the crowd grooves together, it may be hot outside, but the vibe is the correct amount of cool & comfort, there isn't a place you'd rather be on Cinco De Mayo.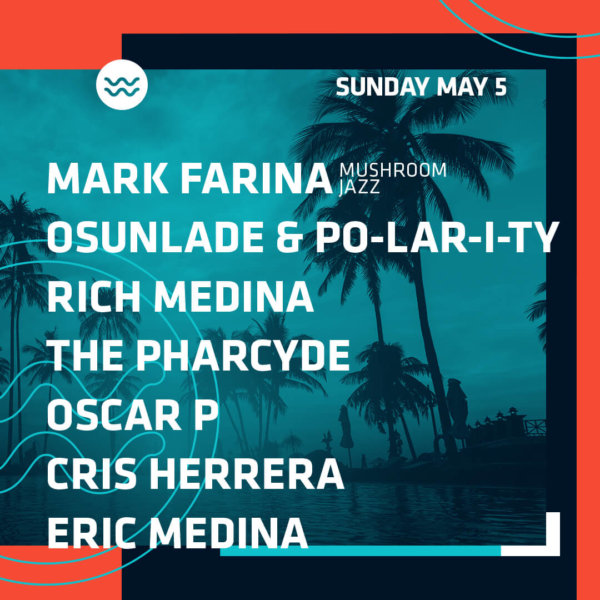 ---
The Sound
Mark Farina: If you're looking for the definition of cool, look no further. Mark Farina's unique Mushroom Jazz sound will soothe and entice you, slowly pulling you in like a musical tractor beam. Described as a combination of downtempo and acid jazz, with words not always being able to grasp the real essence. Before you know it, the groove has consumed you, cool calm and collected as you move to the beat.
---
Osunlade & Po-lar-i-ty: The uplifting vibration that carries you into a state of cool. A cheerful beat accompanied with soothing vocals, this duo's music carries a high level of wisdom I can't describe. Be prepared to go on a auditory journey, the destination you ask? You'll just have to find out…
---
Rich Medina: You can feel the message in Rich Medina's sound, he weaves his soul into the beat with brilliance. A cool combo of afro, hip-hop, and funky vibrations, he is a favorite among Weekend Warriors. His captivating set, in it's harmonious glory, is a proprietary blend of everything you didn't know you needed during Sunday at West Coast Weekender.
---
The Pharcyde: These Hip-Hop Legends were the definition of COOL during a prominent time in hip hop when artists had to act tough. They rose to greatness by daring to be different and didn't conform to the mainstream "Thug Hop" that drove the 1990's. They've been sampled by the likes of Pharrell and P. Diddy among others, The Pharcyde is considered one of the most influential musical groups of their time. Enjoy their smash hit, "Passin' Me By", if the name doesn't sound familiar, I bet the beat will!
---
The Conference
The Weekender Sunday conference hosts some very cool activations for you and the crew. Check out "The Rise of Music City", a panel on how San Diego has become a heavy hitter in the music scene, featuring local legends who have built the SD scene over the last several decades..
Check out the Ableton Live session, nothing is cooler than learning how to produce the music you love to listen to! RSVP with contact@westcoastweekender.net. Don't forget to check out the Roland Interactive Suite to play with the equipment your favorite producers use!
Come spend the weekend with the crew at West Coast Weekender! If you can't make the whole weekend, single tickets are available.
Check out the crazy vibe of Friday and the sexy vibe of Saturday. Which day do you like the best?