Channeling our inner TLC, we're invoking their CRAZY SEXY COOL vibes to explain Weekender's unique day to day schedule; with a dope Lisa Left Eye like flow.
FRIDAY = CRAZY | SATURDAY = SEXY | SUNDAY = COOL
---
DAY 2 | SATURDAY| SEXY

This is the BIGGEST line-up that West Coast Weekender has EVER put together. Starting at the Park stage (with VIP wristbanders also able to enjoy the music from the Pool!), the vibe is SEXY. Late spring in San Diego means we can all get skimpy in the desert heat. Wild. Carefree. Raging in the Alpine sun. It's time to shed excess layers and inhibitions and gyrate together.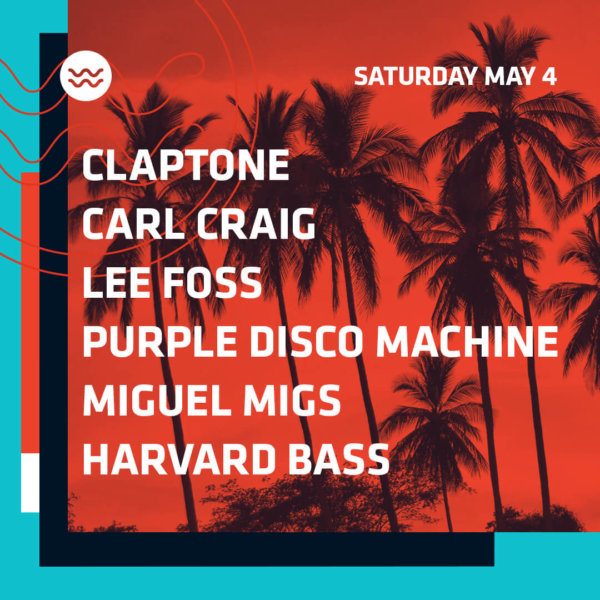 ---
The Sound
CLAPTONE: The man in the golden mask. Claptone cultivates a deep house sound, orchestrated by indie dance. His smooth and warm chords will set your Saturday aflame as he closes out the Park Stage at West Coast Weekender. Claptone released 'Fantast' in 2018, which earned him the "Highest House DJ Award" On DJ Mag's top 100 DJs.
---
Carl Craig: The proud Detroit Techno icon who holds it down for his hometown. As a grammy-nominated producer Carl Craig has worked with the likes of LCD Soundsystem, Hotchip, and Tori Amos. A true visionary of his time, you'd be crazy to miss his 3 hour set on Saturday!
---
Lee Foss: Described by DJ Mag as "One of the most talented new forces in modern dance music today." A favorite among many San Diegans, Lee Foss' upbeat melody matches the San Diego vibe perfectly and will have you adding Foss tracks to your playlist with a quickness! Check out his alluring sound and get ready to groove with some serious 'Electricity.'
---
Purple Disco Machine: Every time the Nu-Disco phenomenon performs, disco ball light cascades from the heavens to match the soulful sounds enveloping you. His mega club track, 'Body Funk' was the #1 Disco Track on Beatport for 5 months in 2018 and has spawned remixes by Carl Cox among other reputable names. Purple Disco Machine rarely visits Southern California and we are THRILLED that he is apart of our legendary lineup.
---
Miguel Migs: You know he's from California by his light and playful beats, perfect for cruising by the beach with your top down. He has a skill for curating tracks that are the cherry on top of your sublime summer sessions. His freeloving sound is sure to entice the whole crew and make even the most veteran Professional Partiers get jiggy.
---
Local Sound
Cris Herrera: Co-founder of Souleil and Soulonbeat, Cris Herrera is a name woven deep within the San Diego underground community. He has played a big part in advancing San Diego's music scene and continues to be a staple crop in any underground music lover's diet.
---
Eric Medina: A guy whose happiest when everyone is dancing. A partner with the Deep End and West Coast Weekender, Eric Medina has been in the game for over a decade, throwing parties and inducing dance floor patrons to boogy. What started as a youth interest in producing, has blossomed into an influential role with premier underground events.
Set times for our headliners are at least 90 minutes, so you can properly appreciate the artistic vision of each artist! Saturday's stacked DJ line-up includes Claptone, Carl Craig, Lee Foss, Purple Disco Machine, Miguel Migs, Harvard Bass, Cris Herrera, Eric Medina, Andrew Wilkinson, DJ Kincaid, & Kali.
The Conference
The conference on Saturday will allow you to dive into how to become a music producer. Nothing's sexier than committing to the craft of this industry and growing in your skill set. You could discover Roland's Interactive Suite to play with the tools your favorite producers use to make music with! Music lovers of all kinds can appreciate the Weekender Vinyl Fair, curated by Zernell. If you love your vinyl, then join us for a day of crate-digging as vendors from all over the California gather to celebrate vinyl, all under the roof. Seek and you shall find. And the Ableton Live class will be continuing this day!
Check out part one of Crazy Sexy Cool, featuring the crazy fun of Weekender Friday here.