Co-Founder of West Coast Weekender, Oscar P, just hit us with 5 heaters from his 2022 catalog. Check them out and get ready for West Coast Weekender's 5 Year Anniversary, June 10-12 in San Diego, California. VIP and single day tickets are available now.
Life on Planets – Altitude / Young Art Records
This great talent has been on my radar since my trip to Mallorca before the covid lockdowns. Crisp writing and fantastic delivery. A mainstay on my USB Stick.
2. Thakzin · Sun-El Musician · Thandazo · Nomthandazo / I.C.U / Memories .
This has been on my GO TO list since 2021. Great song, Dynamic grooves. Always hits the mark at the parties. Once that hook comes in. You cant be denied. Excuse me I'm on the guest list.
3. TSOS, Idd Aziz – Potea / DIRIDIM
Whenever you get a DJ promo from David Morales himself you know he's excited about a project. His label has been on fire the last few years. This time around he showcases TSOS w Idd Aziz on vocals. "Potea" is an afro house classic.
4. Hyenah, Rimarkable – The Manifesto / Rise Music
Two of my faves team up on this afro groove adventure. Never doubt any release you see from RISE. Based out of Berlin they have been at the forefront of the afro house movement's bridge to Europe. Highly recommended.
5. PolyRhythm – Historia Nuestra / Polyrhythm Music
Classic NY style latin house. Vocal sample provides a history lesson in latin music culture. Takes me back to those New York EL Barrio parties back in the day where you came to dance, drink, and get lucky.
Catch Oscar P live and direct at West Coast Weekender's 5 Year Anniversary Saturday, June 11, at Quartyard alongside Matthew Dear, Fred Everything, and DJ Honeybun.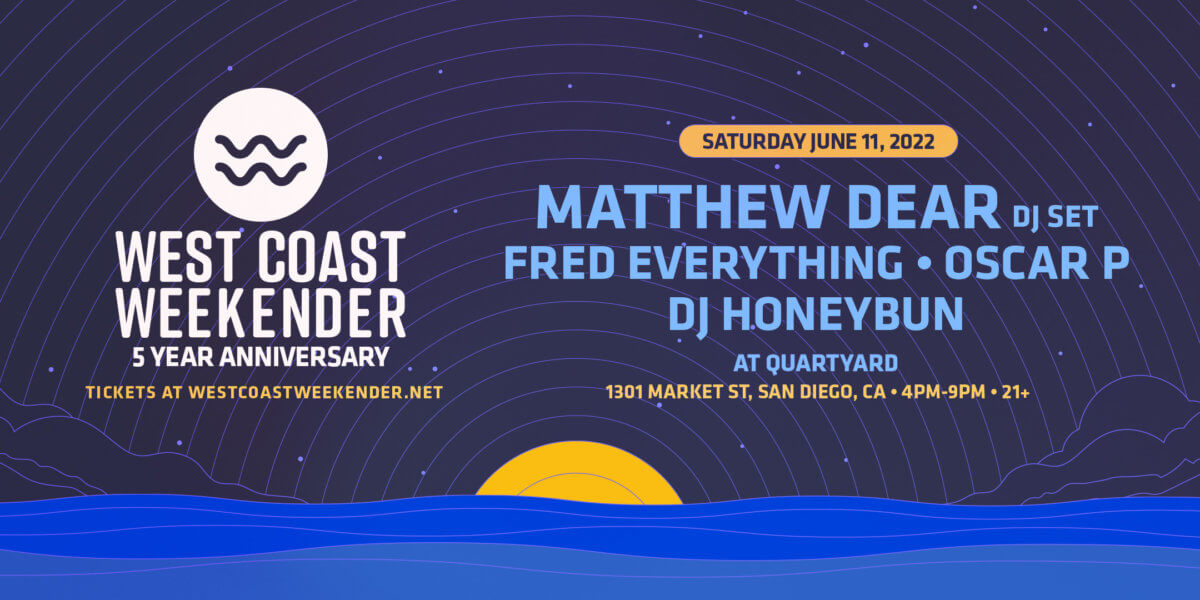 OSCAR P BIO
Raised in Williamsburg Brooklyn and Manhattan's Washington Heights. Oscar P is as groundbreaking as they come. For the past 25 years he's been fusing afro-latino and deep house influences from NYC, Chicago, Detroit, & South Africa to create a unique sound that defines his style today. Over the last 25 years his discography has grown over a variety of labels including Strictly Rhythm, Tool Room, Yoruba, Kolour Recordings, Open Bar Music, MoBlack, Naughty Boy, and Balance Music. As a producer, he's done remixes for J.A.E, Jamiroquai, Adele, Omar, Mark Farina, KiNK, Soul Minority, Todd Terry, & Physics.
A world traveler, he's logged in set times at some of the world's leading venues like The Works (Detroit), Output (Brooklyn), Cielo (NY), King King (Los Angeles), Norad & Beta (Denver), Supperclub (NL), La Santanera (Mexico), Area 22 (Italy), Cinema Club (Bogota), Spin Nightclub (San Diego), Stereo (Montreal), and The Grasshopper (MI).
With more than 40 releases cracking the top ten in the last three years, a who's who of music industry pioneers support his productions. He's been named one of the best selling Afro House Music Artists yearly alongside Black Coffee, Osunlade, Atjazz, Hyenah, Louie Vega and Manoo on Traxsource.
Oscar P operates two of the most respected underground house labels, Kolour Recordings and Open Bar Music. He also co-produces West Coast Weekender. A boutique music conference and festival that attracts people from all over the world to his home base in San Diego, California.